| | |
| --- | --- |
| | This article is or has been the Featured Article on the Zootopia Wiki! |
"In Zootopia, anyone can be anything. And these guys? They be naked."
―Nick to Judy about the naturalists
The Mystic Spring Oasis is a location in the city of Zootopia. It is owned by Yax.
Description
The Mystic Spring Oasis is described by Yax as a "naturalist club". The mammals who work and frequent here are often nude. It is where Emmitt Otterton frequented before he went missing.
Role in the Film

When Nick Wilde helps Judy Hopps find Emmitt Otterton, he takes her to The Mystic Spring Oasis, where he last saw him go. To Judy's horror and discomfort, she realizes that everyone at the Oasis is naked.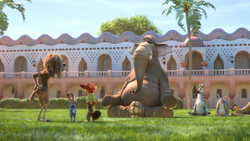 Yax takes them to Nangi, who has been Emmitt's yoga instructor for six years. Although she doesn't seem to even remember Emmitt and that he comes here, Yax is able to give a plethora of details on him, including his last visit to the Oasis, what he was wearing, and the car he got into, with the license plate number, greatly helping Judy with her case. Then she has Nick take her to the DMV to run the plate.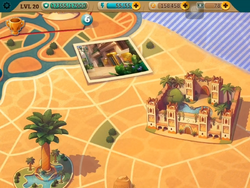 The Mystic Spring Oasis appears in "It's Only Natural", the tenth case of the game. Chief Bogo assigns Judy and Nick to investigate who vandalized the Mystic Spring Oasis.
The Mystic Spring Oasis is one of the crime scenes Judy and Nick investigate when the Wi-Fi signals are jammed all over Zootopia in "Wi-Fi Jam", the thirteenth case of the game.

Employees
Trivia
The nude animals erroneously refer to themselves as "naturalists", a term used to describe experts or students of natural history. The correct term to describe them is "naturists".
It is revealed in Case 10 of Zootopia: Crime Files that Yax and other naturalists wear beaded necklaces because they carry things like IDs, since the animals don't wear clothes (and thus lack pockets) while at the Oasis.
The Essential Guide incorrectly refers to the Oasis as a spa.

The Guide also states that the Top 3 Yoga Positions are:

Downward Dog
Half Moon
Tree Pose
Gallery
References