| | |
| --- | --- |
| | This article is or has been the Featured Article on the Zootopia Wiki! |
The Tiger dancers are four male tigers who are background dancers and bodyguards for the Zootopian pop star Gazelle in Zootopia.
Physical Appearance
The tiger dancers are all nearly identical in appearance. They all have orange fur with black stripes and white accents, glitter-dusted faces, and wear sparkly black and silver shorts with trims and slits on the sides.
Their predominantly bare upper bodies are broad and muscular when compared their lower bodies, and they all have large arms and paws.
Role in the Film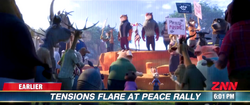 They first appear in a mobile app called Dancing with Gazelle. Officer Clawhauser is first seen showing off the app and applying a picture of his face onto a single dancer, and is praised by a recording of Gazelle. The app is later used by Chief Bogo for the same purpose.
The dancers are next seen near the climax of the film, during Gazelle's peace protest. Two stand on either side of her and the other two are seen mingling with the edges of the crowd below. Because of this behavior, they are most likely acting as bodyguards for Gazelle.
During the credits of the film, all four tiger dancers can be seen dancing alongside Gazelle at her concert.
Role in Literature
The tiger dancers are seen briefly in the Handbook on an ad for a dance club.
The tiger dancers are seen briefly at the end of the comic, dancing alongside Gazelle during the revised Skunk Appreciation Parade.
The tiger dancers are seen briefly at the Zoo Year's Eve celebration, dancing alongside Gazelle.
Trivia
The Tiger Dancers are featured on the online game Dancing with Gazelle, specifically where the user can paste their face onto one of them.
Gallery
Community content is available under
CC-BY-SA
unless otherwise noted.