| | |
| --- | --- |
| | This article is or has been the Featured Article on the Zootopia Wiki! |
"Tundratown glistens with snow and ice all year long and is kept frigid thanks to its climate-controlling wall. Polar bears, wolves, moose, yaks, reindeer and other cold-loving animals make this neighborhood their home, but anyone can visit any time they start yearning to ice skate or throw a snowball."
Tundratown is a district for polar mammals in the city of Zootopia. It is built on the opposite side of Sahara Square's climate wall.
Description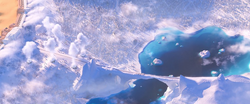 Tundratown is the icy easternmost district of Zootopia, characterized by its snowy landscape and its population comprised primarily of Arctic animals, such as polar bears and Arctic shrews.
Tundratown is notable for its arctic climate, as well as the onion-domed buildings which make up its architecture. Another notable feature of the district is "Flow Ped", a special kind of transport for mammals via floating ice caps.
Other means of transport in this district are "skidoos". In the configuration of passenger cars, vans, and trucks, the skidoos are essentially snowmobile conversions of conventional automobiles, the latter of which are unsuitable for use on the icy, low traction roads.[2]
Role in the Film
Tundratown is one of the locations Judy Hopps' train passes through on her way to Zootopia Central Station. She wipes the mist from the window and marvels at the sights of it.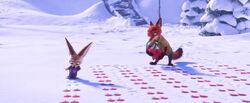 After melting the Jumbo-pop in Sahara Square, Nick Wilde and Finnick travel to Tundratown, utilizing the cold to freeze the liquified lolly into a myriad of pawpsicles.
During their search for Emmitt Otterton, Judy Hopps and Nick Wilde go to Tundratown Limo Service to locate the limousine that the otter was last seen in. Initially unaware that the limousine belongs to crime boss Mr. Big, the two are abducted by Raymond and Kevin and taken to Mr. Big's home.
After Judy's press conference, Tundratown is the topic of a news report, in which a caribou was mauled by a savage polar bear in the district, the twenty-seventh predator attack of the week.

Places of Interest
Residents
| | | |
| --- | --- | --- |
| Tony | Unknown species | |
Trivia
When the train Judy rides passes over Tundratown, two young elephants can be spotted wearing dresses identical to the ones worn by Elsa and Anna from Disney's Frozen.
There are vehicles in this district referred to as "skidoos". Ski-Doo is a popular brand of personal snowmobile.
Map
(click on the map to know more)
Gallery
References