"I don't know why, he just looks out the window real nervous the whole time. But it ain't my business, so I don't ask."
Two-Ton Teddy is a male hippopotamus in the game Zootopia: Crime Files. He is a suspect in a string of tire slashings. He appears in Case 3.
Physical Appearance
Two-Ton Teddy is a large hippo with brown skin, green eyes, and a large snout, as well as two buckteeth typical of hippos. He wears a white shirt, a sky blue tuxedo, and a blue bow tie. He almost always has a nervous expression on his face.
Role in the Game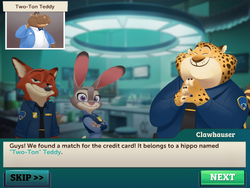 During a case of slashed tires, Judy Hopps and Nick Wilde find a receipt in Marie's limo. The receipt is for flowers and Plack CDs and the credit card number belongs to Two-Ton Teddy. Marie, a cheetah, tells them she chauffeurs him around the same area and that he is always looking out the window nervously.
Judy and Nick question Teddy about the crime scene and he says he saw a suspicious-looking animal hauling tires in the back alley. Upon closer inspection, Teddy realized that it was a tiger, whom Nick recognizes as his friend, Antonio the garbage collector.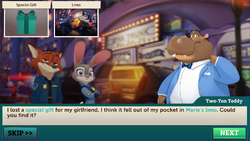 After the case is solved, Teddy tells Judy and Nick he lost a special gift for his girlfriend in Marie's limo. Judy, a romantic at heart, says she's happy to help. They look in the limo and found a ring box covered in pasta sauce.
Judy understands why Teddy was driving around so nervously, he was working up his courage. After cleaning the ring box, Judy anxiously wants to look inside. Unfortunately, the ring is also covered in pasta sauce.
After they clean the ring, they return the box to Teddy who is grateful, but also says that it lost its special touch he added. He coated the box and the ring in his and his girlfriend's favorite pasta sauce, much to Nick's confusion. Teddy says he'll throw it in a vat of sauce at home so it'll be right for their proposal. Nick comments their love "mysterious and weird".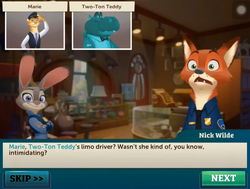 Although he didn't appear in the case of the robberies of Phil's pawn shop, he was mentioned when Judy and Nick find Marie's name on the hold list.

Trivia
In the early version, the dossier explains that he is a jealous thug boyfriend with brown eyes. In the updated version, the dossier explains he is a surprisingly friendly thug with green eyes.
Two-Ton Teddy and Herve share the same character model.
Gallery