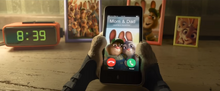 Hi! I am AlexAndPedro! You may have seen me in the
Fran Bow
Wiki,
Zip Zip
Wiki,
Sandra and Woo
Wiki and the not that popular
Commander Clark
Wiki.
I am here, in front of the computer or mobile to... edit and edit and edit until I sleep and wake up and edit and edit and edit and... Cookies! Yum! Oh, and milk? Thanks! Delicious... and edit and edit and edit...
Seriously, I will literally have a piece of paper and a pencil to write a good episode quote, the characters involved, especially when the episodes for these are not online.
My favorite pages
Nick Wilde (Who doesn't like Nick Wilde?) if it is you... sorry. Peace!
Judy Hopps (I just love her personality!)
Zootopia (I mean, who doesn't love the main page? If it is you again... sorry again... :( )
Community content is available under
CC-BY-SA
unless otherwise noted.