Hello, my fellow Zootopians! Prepare to get Z.A.P.ped! It's time for this week's edition of the Zootopia Appreciation Post, or Z.A.P. for short. Every Saturday, I'm gonna be posting a different Zootopia-related topic that we can all discuss.
For today's topic, I would like to talk about Gideon Grey's Real Good Baked Stuff.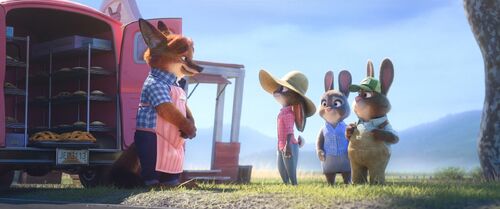 This is this week's post.
Also, this is my 104th Z.A.P., which means, I have now done one every week for two years!
Whoo hoo! 🎉🎊
I believe this deserves a victory toot toot! 📣📣
I am truly amazed that I've managed to keep this going for this long! All of you guys are awesome and I love that we've been able to keep the Zootopia fandom strong and alive. This is the coolest fan base I've ever been a part of and I am happy to have been able to share my love of this movie masterpiece with all of you. And since the day I released the first Z.A.P., I felt like I had made the world of Zootopia a better place! Here's to a lot more of these Zootopia Appreciation Posts!
Anyway, on to the subject.
When Judy returns to Bunnyburrow after resigning from the ZPD, she works as a vendor at her family's farm. Bonnie and Stu attempt to cheer their depressed daughter up, but to no avail. Just then, Gideon Grey drives up in his delivery van, much to Judy's surprise.
Bonnie and Stu inform her that they do business with Gideon now, and they would never have even considered it had Judy not opened their minds. Judy approaches her old nemesis, Gideon apologizes for his behavior as a child, and the two reconcile.
According to Stu, Gideon is one of the best pastry chefs in the Tri-Burrows. I wonder if he competes in the Carrot Days Food Festival? I'm sure he would win. On a more serious note, I think it's great that Gideon Grey was reformed and was able to get closure with Judy. He seemed honestly remorseful for his actions and like the old saying goes, "It takes a big man to admit he was wrong".
So, what do you guys think? Sound off in the comments below!
Community content is available under
CC-BY-SA
unless otherwise noted.