Hello, my fellow Zootopians! Prepare to get Z.A.P.ped! It's time for this week's edition of the Zootopia Appreciation Post, or Z.A.P. for short. Every Saturday, I'm gonna be posting a different Zootopia-related topic that we can all discuss.
For today's topic, I would like to talk about Outback Island.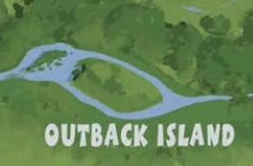 Outback Island is a district for marsupials and other Australian mammals in the city of Zootopia.
The district is a small, lush-looking island that is a fair distance from the hub of the city. Despite it being called an island, it is actually only surrounded by a large river that flows down to and around it as it reaches the sea.
It appears to be fairly small and surrounded by thick woods on either side of the river surrounding the island. It is home to mainly Australian mammals.
During production, Outback Island would come in and out of the movie various times, but it was ultimately cut. While the place is never shown, it can be seen on a piece of concept art of a map depicting Zootopia.
Outback Island plays a central part in the plot of the book, The Stinky Cheese Caper and Other Cases from the ZPD Files, being the cause for most of the crimes committed.
I wonder if the fact of Zootopia not having a district that caters to Australian mammals is canon or not. I, for one, hope that it appears in a potential sequel. I think it would be a cool place for Nick and Judy to explore.
So, what do you guys think? Sound off in the comments below!
Community content is available under
CC-BY-SA
unless otherwise noted.