Hello, my fellow Zootopians! Prepare to get Z.A.P.ped! It's time for this week's edition of the Zootopia Appreciation Post, or Z.A.P. for short. Every Saturday, I'm gonna be posting a different Zootopia-related topic that we can all discuss.
For today's topic, I would like to talk about Zootopia Land.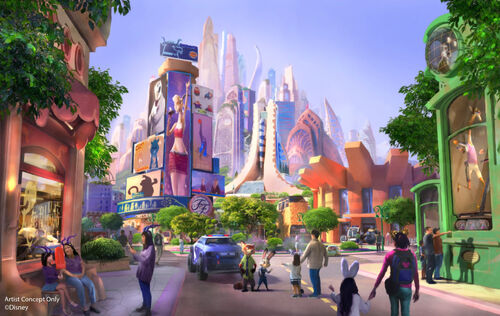 Apologies for not doing this on Saturday.
As you know, Disneyland Shanghai will be getting a new attraction called Zootopia Land that will open in 2021! It will be the first Zootopia-themed land in any Disney park. Excuse me for a second.
(Inhales deeply) Why can't this be happening here in America?! 😡
Sorry about that. Anyway, according to the concept art, Zootopia Land is made to resemble Savanna Central. Structures with character models in and outside of them are visible, as well as models of the vehicles they drive. A tall building with Zootopia-themed billboards and advertisements is also on display.
Guests are shown being greeted by Judy Hopps and Nick Wilde, and said guests appear to be able to obtain headbands that resemble the ears of different animals, including those of rabbits, leopards, zebras, and gazelles. One guest is depicted holding a Jumbo-pop.
I feel like this is only the tip of the iceberg and that the official attraction will be absolutely amazing.
It's great to see that Disney is starting to give Zootopia the attention it deserves, and not just forgetting about it. I just hope that we get something like this at Disneyland California or at Disneyworld Florida. America needs to be able to experience this!
I mean, who wouldn't want to walk into Disneyland or Disneyworld and see this?!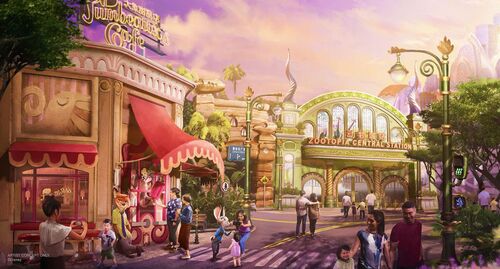 And finally, I feel that this is a very good idicator that we will see Zootopia 2 in the near future!
So, what do you guys think? Sound off in the comments below!
Community content is available under
CC-BY-SA
unless otherwise noted.