Hello, my fellow Zootopians! Prepare to get Z.A.P.ped! It's time for this week's edition of the Zootopia Appreciation Post, or Z.A.P. for short. Every Saturday, I'm gonna be posting a different Zootopia-related topic that we can all discuss.
For today's topic, I would like to talk about Skye.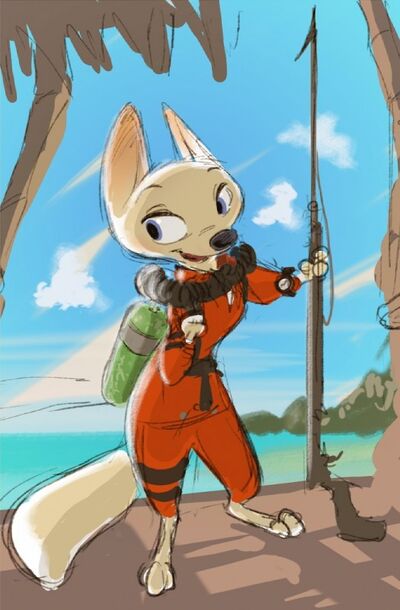 As you know, before Zootopia became the cinematic masterpiece we all know and love, it was once a James Bond animal parody movie called Savage Seas. It's main protagonist was Jack Savage, a jackrabbit, who worked as a spy and would be sent out on secret missions.
But Jack didn't work alone. He had the help of Skye, the fox mechanic and engineer. She was super smart and would usually work on and/or build Jack's gadgets and vehicles. She would also come along on some of his missions. In her free time, she might enjoy scuba diving, as evidenced by a piece of concept art depicting her in a wetsuit.
Now, a couple of things come to mind. First, how big of a part would Skye have had if Savage Seas had been made? Second, are Jack and Skye gender-bent versions of Judy and Nick? Third, would they have the same dynamic? And finally, what is their relationship?
Even though Jack and Skye aren't characters in the official movie, they still get lots of fan art. In fact, some of the fans ship them in the same way they ship Nick and Judy.
I hope that we get to see Jack and Skye in a potential sequel. It would be cool to see them meet another fox and bunny duo.
So, what do you guys think? Sound off in the comments below!
Community content is available under
CC-BY-SA
unless otherwise noted.