Hello, my fellow Zootopians! Prepare to get Z.A.P.ped! It's time for this week's edition of the Zootopia Appreciation Post, or Z.A.P. for short. Every Saturday, I'm gonna be posting a different Zootopia-related topic that we can all discuss.
For today's topic, I would like to talk about Savage Seas.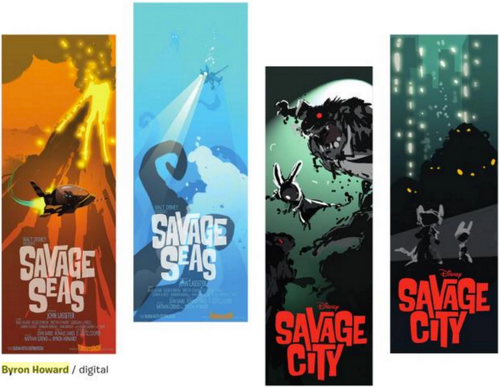 Apologies for not doing this on Saturday.
As you know, one of Zootopia's early drafts was a series of films called Savage Seas, or The Savage Chronicles.  It was an idea for a James Bond-esque series of spy flicks. Several titles for movies in the series included:
Savage Seas
Savage City
Savage Earth
Savage Land
Savage Times
Savage Seas was to center around Jack Savage and his journey to the "South Seas".
What was interesting is that I've read somewhere that there was originally going to be three main characters in the franchise: Jack Savage, Skye, and Nick Wilde. All of them members of a super-secret spy agency.
The concept appeared to have traveled a long time during production, because they were already planning five possible films. Which would probably have taken, like, 16 years to release all of them. And that's if they cranked one out every four years.
When the idea was pitched to producers, they liked the idea of a city built by mammals, for mammals, and convinced them to go with that. I'm not saying that I would not have liked a James Bond animal movie, but I'm really glad that Zootopia came out the way it did.
Hopefully, the directors can incorporate a few characters/elements into a potential sequel.
So, what do you guys think? Sound off in the comments below!
Community content is available under
CC-BY-SA
unless otherwise noted.