"I just LOVE Sebastian. I think he's amazing! I only wish I could see what goes on backstage."
―Wanda, Abracadabra
Wanda is a female mouse in Zootopia: Crime Files. She is a fan of Sebastian and is suspected of sabotaging his act. She appears in Case 12.
Physical Appearance
Wanda is a slender mouse with dusty-brown fur. She has large pink ears and a pink nose, with three whiskers on either side of her muzzle. Her visible outfit consists of a pink shirt with a large gold sequin circle in the middle. Her large eyes are blue.
Role in the Game
Pamela, The Amazing Sebastian's assistant, recommends that Judy Hopps and Nick Wilde speak to Wanda, who is a big fan of Sebastian and attends every show, so they take her advice. Judy asks Wanda if she saw anything suspicious on the night that Sebastian's show was sabotaged, and she tells them that Sebastian's trap door didn't open. She adds that she thinks that the horse magician is amazing, and that she wishes she could go backstage. Nick realizes that the backstage would be a good place for him and Judy to search, so they take their leave of Wanda.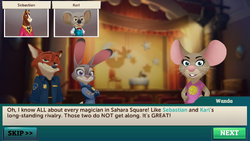 Later, Judy and Nick find a magic book from Grant the doormammal, which Clawhauser confirms belongs to Wanda. Judy asks the mouse if she knows anything about her book being at the crime scene. Wanda tells them that she knows about every magician in Sahara Square, and mentions that Sebastian and a magician named Karl have a fierce rivalry; she adds that she loves to see the pair fight. Wanda then leaves to gamble and adds she's color blind as a bat.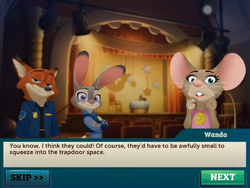 After finding some glue in the mobile dressing room, Judy and Nick ask Wanda if it could be used to seal a trap door shut, and Wanda says yes, but that the culprit would have to be small to do so. Based on this fact, Nick realizes who the culprit is and he and Judy leave to make their arrest.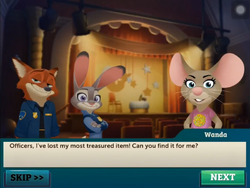 After the case is solved, Wanda asks Judy and Nick to find her "most treasured item", stating that she can't live without it. Upon searching the dressing room, the pair find a lock of hair and return it to Wanda, who eagerly thanks them. She says it's from the Amazing Sebastian and calls it her "most treasured item".
Trivia
Gallery
References