"Thanks for returning those photos. I took them for 'share your stripes day'."
―Yolanda, Jail Break!
Yolanda is a female zebra in Zootopia: Crime Files. She is suspected of helping Chuckles escape from prison and ransack the ZPD. She appears in Case 9.
Physical Appearance
Yolanda is a tall, slim zebra with white fur smattered with black stripes. She has a neatly cut mane swept back over her head that stretches down her neck, a black muzzle, and green, eyelash-framed eyes. Her outfit consists of a low-cut pink shirt, a navy blue jacket, and a pearl necklace.
Role in the Game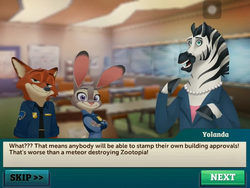 While searching for the suspect who helped Chuckles escape from prison, Judy Hopps and Nick Wilde find a display case, which contains the seal of the Zootopia Planning Commission, according to Herbert the janitor, who has a "keen interest in real estate" and got it from Yolanda. He suggests they talk to her. Judy and Nick visit Yolanda and Judy asks her if she's aware that the seal for the Zootopia Planning Commission is stolen. Yolanda panics, saying that anybody will be able to stamp their own building approvals. Judy asks her who could have taken it. Yolanda says that only a few important people have access to it, and she adds that she has a keen interest in real estate, much to Nick's annoyance on real estate.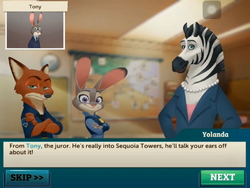 At the briefing room, near the city map, Judy and Nick find a torn pamphlet. After piecing it together, they see it is another pamphlet for Sequoia Towers. Judy notices a name in fine print on it, and they send it to the lab to analyze it. Clawhauser tells them that the fine print is of "exceptionally high quality", and it says "Property of Yolanda". He suggests they talk to her about the pamphlet. They go to Yolanda and Nick asks her about the pamphlet. Yolanda starts to say that she has a keen interest in real estate, but an annoyed Nick finishes her sentence and asks where she get it from. She says she got it from Tony the juror, who likes Sequoia Towers. Judy decides to chat with Tony.
After the case is solved, Yolanda tells Judy and Nick she left a folder in the briefing room and she'll fall over dead if they don't get it for her. Nick remarks that this is serious and in no way an exaggeration. In the briefing room, they find a box of files. They look inside and the first box has a manila folder inside. They open the folder and it contains photos from Yolanda's "Share your stripes day". Judy and Nick return them to Yolanda who thanks them, saying she took the photos for "Share your stripes day". Nick comments it's more like "Overshare your stripes day". Judy tells her to take care of those photos and to never show them to anyone.
Trivia
Yolanda and Rolfina share the same character model.
Gallery
Community content is available under
CC-BY-SA
unless otherwise noted.