Featured Article

Magical Mystery Nick is a comic in Disney Zootopia: Friends to the Rescue.
Read More
Featured Image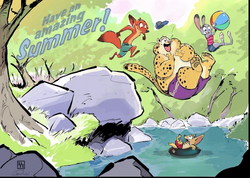 Artwork by Byron Howard.
Featured Quote
"I forget what amnesia is, but narcolepsy means you... (yawn)... boy I'm beat, what was I saying?"
The Administrative Team
Not sure who to talk to when you have problems regarding the wiki? Talk to the Administrative Team!
Contributing and Helping Out
Have information on a subject relating to Zootopia that we don't have? Go ahead and make a page on it, but ensure it is in line with our Rules and Guidelines!
Type in the title first before clicking the button!
Not sure what to do? Go to our to-do list to find an article that needs improvement.
Affiliates
For more general information on Disney works, check out the Disney Wiki!
For more information on the Dreamworks franchise, check out the Madagascar Wiki!
To learn more about Illumination Entertainment's newest film, Sing, check out the Sing Wiki!
To learn more about the upcoming children's series, True Tail, check out the True Tail Wiki!
Disclaimers
You are required by law to be 13 or older when making an account on Wikia. This is passed under the COPPA policy. If you are under 13, you will be blocked. If you are 13 or over, we strongly encourage you to make an account.
We are also a
100% fan site
and are not affiliated with Disney in any way.